Armor Paving Is A BBB A+ Rated Asphalt Repair and Maintenance Company in Columbus, Ohio.
---
​No two paving jobs are alike. Armor Paving in Columbus, Ohio, strives to understand and address each unique set of needs. We perform all phases of the project in-house. We will design a plan that meets your detailed project needs. Our team has the experience and knowledge to handle everything from material spec guidance to staged construction.
Since our start in 1985, we have been performing all types of work from site work to fixing drainage issues. Armor Paving has experts in both concrete and paving for the private and commercial markets. Our extensive client list ranges from local churches and schools to new housing developments.
When it comes to road and parking lot construction, Armor Paving can handle it all.
We have the experience and the equipment to handle any commercial project. Some of our past projects include parking lots, access roads, shopping centers, apartment complexes, recreational facilities, site work, loading docks, retaining walls, ramps, cart paths, walking trails and much more.
Here is a quick overview of some of our paving projects:
Patch with or without perimeter milling
Provide full-depth asphalt replacement or new installation
Provide full-depth patching
Remove and replace (stripping)
Remove and replace asphalt
Resurface existing asphalt with options for pavement fabrics
Armor Paving Also Offers
Storm Water Management
We can also provide expert consultation and service for managing water flow problems by:
*Installing new under drains and catch basins
*Rebuilding broken and deteriorated basins
*Performing emergency catch basin repairs to sunken basins
Crack Fill Applications
Small cracks in your asphalt pavement are unsightly. If those cracks are left unfilled, they will allow moisture to penetrate the asphalt surface. Armor Paving will address pavement cracks prior sealer application. This will provide a more attractive finished appearance and it is an important preventative maintenance. The larger spider cracked areas should be repaired with asphalt prior to the seal coating being applied.
Seal Coating
A high quality coating will provide two major benefits to your property. First, seal coating will protect asphalt from damaging factors of Mother Nature. Second, sealer will provide great curb appeal. A new seal coat every year will give your asphalt that new look black appearance. Asphalt Sealer is the best way to preserve the oils, which will help maintain the pavements' flexibility.
Pavement Markings and Signage
If your project requires a brand new layout for parking, or you just want to refresh the faded lines on your parking lot, Armor Paving can provide high-quality line painting and other parking lot accessories, such as:
Bollards and sign posts
Concrete and rubberized car stops
Visible pavement symbols such as handicap, working, and hash outs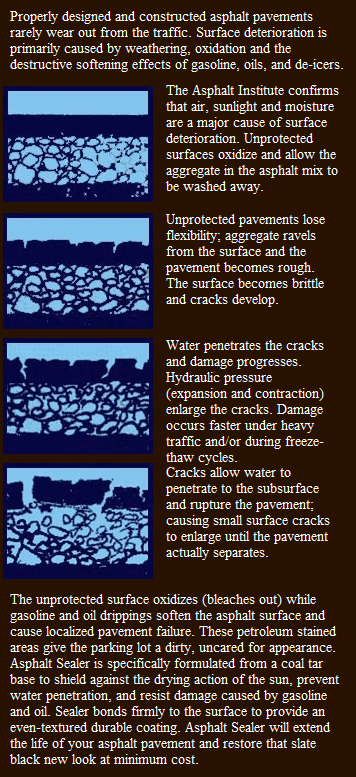 For a list of our satisfied customers, contact our facilities at 614-915-0040. We'll always be looking forward to helping you in any way that we can. Thank you for visiting our web site.